Of colour pop and street hop
The cute little town of Kota Bharu has a lot to offer. We intend to highlight the artsy side to it through this post.
Where: Jalan Dato Pati, Bandar Kota Bharu, 15000
Landmark: Near the State Museum, behind the line-up of shop-houses
Let's dive in: 
Hope you enjoyed the virtual tour of our 20 favourite pieces of art at Kota Bharu. Whenever you head to the museums, city centre or culture hub, make sure you stop by and click a few pictures here.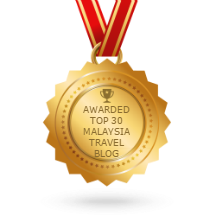 That being said, there's some great piece of NEWS we would like to share with our readers – Lyf&Spice has been awarded the Top 30 Travel Blogs of Malaysia. Read more about it here. We would like to thank each one of you for your constant support, suggestions, feedback and comments. We promise to provide you with more travel tales as we grow. Cheers lovely fam!
Check out our travel & food posts on Instagram.
Read – Travel – Enjoy