Of lanterns, old houses and 'visa discount'
Hoi An is a sweet little town known for its traditional flavour of Vietnam. It houses the famous old port of the glorious Cham Kingdom, where most of the spice trading took place. International trading and exchange around the 15-19th centuries accounted for the concoction of influences derived from various countries and cultures.
Once a lively port and an active income generating source, Hoi An is now a well-preserved ancient little town that talks of its glorious past. Stroll around and you will eventually fall in love with its sweet vibe and old town charm.
Things to do:  
This UNESCO World Heritage Site has notable attractions worth seeing (scroll till the end of the post to avail a 10% discount on visa fee).
More than that, if you just intend to stroll around the ancient town, here's what you must not miss:
1.Old town:
A visit to Hoi An is incomplete without spending an entire day or days at the old town. This quaint little set-up is all about preserved heritage and colonial buildings, providing a glimpse of the trading town of the past.
A visit to Hoi An = A visit to the ancient town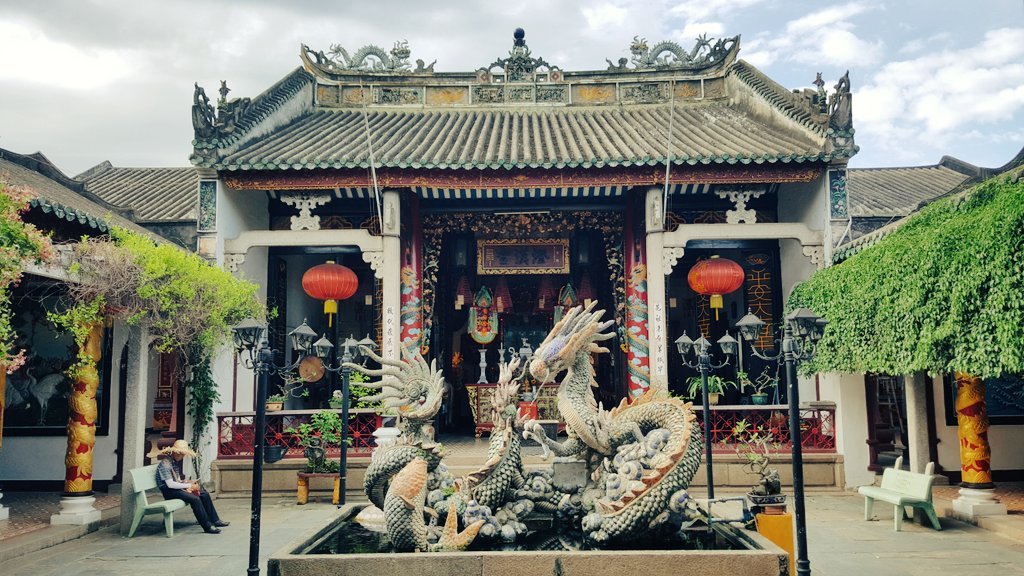 Things to see:
Japanese Bridge: The famous symbol of the city, this bridge was built in 1590s to connect the Japanese to the Chinese quarters across the river. Notice the beautiful ornamentation, the figurines of dogs and monkeys and the shelter that covers the roof of the bridge.
Old houses: They are exceptionally well-preserved. Many of these one or two-storeyed buildings double up as shop houses. The most note-worthy ones are Duc An House, Tan Ky House, Phung Hung House and Quan Thang.
Museums, temples and halls: Check out the famous assembly halls and museums like Museum of Folk Culture, Museum of Trade Ceramics, Hoi An Museum, Museum of the Revolution etc. Honestly, the museums didn't impress us too much. See if you want to spend a ticket on them or on other structures instead. You must check out the schedule at the Hoi An Traditional Art Performance House and Handicraft Workshop, if interested.
Lanterns: If lanterns excite you, then you're in the right place. Watch the old town transition into a lantern city by the evening. Spend time amidst the glimmer of lanterns. Beautiful colours adorn the walls of the old buildings. The town provides a blend of radiant hues, all talking about the colourful past. Look up the dates of the Lantern Festival in advance.
River: Take a boat ride, buy a lantern and leave it to float in the river or simply take part in the activities around it – go people-watching, check out the fishing nets being flung and watch the local Vietnamese women sell handicrafts by the river. Festivals, food fests and celebrations are a norm of the river-side, and if you are lucky to visit on one of the festive days, take part in various activities, watch live performances and more. Take up an exclusive dinner at the boat restaurants and imbibe the views of the riverside and sound of the hustle-bustle surrounding you.
Night market: Does this really need a mention? We think the essence of a city can be sniffed at its night market. The one at the old town offers not just handicrafts and souvenirs, but a lot of local snacks, donuts, crispy rice pancakes, ice cream sticks, banana roti and more.
The charming strips along the river: Restaurants, spas and beer joints form strips across both sides of the river, while tailoring-units, shops selling clothes and boutique stores adorn the alleys.
We were lucky to be a part of the Quang Nam Festival 2017. We got to witness lamps and lights, food competitions, music, games and more in the ancient town. The festival aimed at promoting the unique cultural values of the Vietnamese province of Quang Nam, its products, tourism and ethnicity.
2.Try local food:
This is something you must do while in Hoi An. While there are so many Vietnamese specialities to try, you must order Cao Lau, a dish made with noodles, greens and pork slices, Com Ga or chicken rice and Che, their famous dessert served with a blend of ingredients like sweet corn, red beans, banana, jelly, tapioca and ice.
3.Have cheap beer:
Most of the restaurants, especially within the Old Town, offer a pint of beer at VND 5,000 (USD 0.22 or INR 15). Can you beat that? Check out their happy hours and order as many as you want. PS: They do taste tad diluted, but then, who cares, right?
4.Vespa Ride:
If you are looking for an exotic ride, then get ready to shell out some money and experience the local culture, meet people along the way and try your hands at a new cuisine. These Vespa rides operating under Vespa Adventures are promising and have packages for the countryside, rural villages, streets and coastal towns. Cost: VND 15,87,000 – 38,87,000.
5.Take day trips:
Indulge in day trips to the beautifully-preserved UNESCO site of My Son. This archaeological site contains ruins from the 4th to 15th centuries. Alternately, plan a day trip to the limestone peak of the Marble Mountains, the jungle-clad cliffs of the Hai Van Pass or the hill station of Bach Ma National Park.

Get in touch with a travel agent or tour-booking company
Tickets:
Tickets have to be bought at the counters designated for the same. For instance, the tickets usually cover your entry fee and access to five prominent sites within the old town. Cost: VND 1,20,000 per person approx.
Facilities:
What else will you find in the town?…
Bike rentals
Laundry shops
Restaurants offering local food
Good, cheap, local beer for VND 5,000
Shacks and stalls selling the best Com Ga (chicken rice) ever
Tailor shops, clothes outlets, boutiques
Banks, ATM, Western Union
Mini Mart at various lanes
Spa, massage, salons
Insanely delicious Com Ga
Do you know?…
Timings: The town wakes and sleeps early. Don't be surprised if you find restaurants and shops shutting down by 9.30-10 pm on weekdays and latest by 12 am over weekends.
Language: Most of the people know very little or no English, including banks, shops and restaurants. Use a translator app or learn the basic words/phrases.
Taxi: Getting a local taxi is easy, however, getting a Grab Taxi might prove to be a task. Most of our bookings were hard to find, dropped or cancelled.
The glimmer of the Old Town (by the river)
Getting there:
The best way to reach Hoi An is via bus from Da Nang; at least that's what we did.
You have three options:
Book an air-conditioned bus in advance. Check the rates online and compare with your tour agent or hotel.
Take the regular non-AC bus that plies every 30 minutes from the Da Nang bus stop.
Book a cab and see if you find someone to share it.
For everything else, there's Grab (taxi) 🙂
Hope this post helps you. Have you been to Hoi An? What did you do there?
Check out our travel & food posts on Instagram.
Read – Eat – Travel
Use the code LYFANDSPICE for getting a 10% discount on your visa fee -> here.